Amsterdam Dance Event: ecco tutti i DJ del piů grande Club Festival del mondo
Da Dave Clark a Paul van Dyk, da Sven Vät a Norman Cook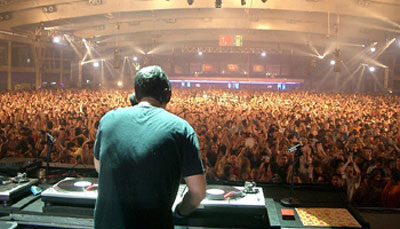 Dave Clarke
Amsterdam Dance Event.
A tempo di record Amsterdam Dance Event si č conquistato il titolo di piů grande Club festival del mondo. I numeri parlano da sč: 40 clubs di Amsterdam ospiteranno ben 400 Dj da Venerdě 19 Ottobre 2006 a Domenica 21.

"Ci aspettiamo almeno 25.000 presenze quest'anno. Abbiamo lavorato molto sulla pubblicitŕ a Londra e in Germania, ed č probabile che raddoppieremo gli spettatori presenti lo scorso anno". Cosě Richard Zijlma, general manager dell'evento.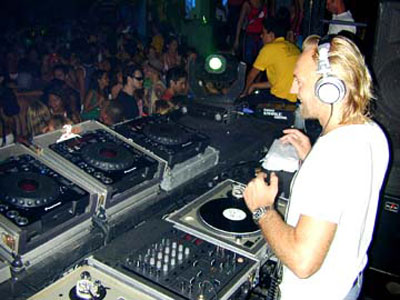 Sven Vath





Last added. Recentemente si sono aggiunti al cast del festival il duo tedesco di electrohouse "Tiefschwarz" e l'ambasciatore della dance inglese Pete Tong.

Line up.
Ecco la lista di alcuni dei migliori dj che parteciperanno all'ADE:

Arthur Baker (us), Dave Clarke (uk), Baby Dee (us), Tiefschwarz (d), Andy Barlow (Lamb, uk), Planet Pendulum (uk), DJ Benny Benassi (i), Zoot Woman (uk), Gene Farris (us), Sneakthief (d/can), Bugz in the Attic (uk), Postman (nl), Fedde le Grand (nl), Mweslee (e), Gregor Salto (nl), Streamer (nl), DJ Spooky (us), Kelpe (uk), Nuno dos Santos (nl), Oxia (f), DJ Joy de la Rosa (e/nl), Gerry Arling's Bombay Connection Sitar Band feat. Kypski (nl), Martin Solveig (f), Rex the Dog (uk), Joost van Bellen (nl), Paul van Dyk (d), Mighty Dub Katz (aka Norman Cook, uk), Sven Väth (d), Ricardo Villalobos (cl), Kraak & Smaak (nl), Vince Watson (uk), Ashley Beedle (uk), Illicit (nl),Goodlife (f), Subliminal (uk), Delsin (nl), Southern Fried (uk), Klakson (nl), Defected (uk), Finger lickin (uk), Against the Grain (uk), Hed Kandi (nl), Stealth Records (nl), Get Physical (d), Basserk (nl), 90watts (nl), Outland Records (nl), Blacksheep Recordıngs (nl), Cocoon (d), DC Recordings (uk), Appletree Records (nl), Sonar Kollektiv (d), MN2S (uk), Pokerflat Recordings (nl), Toolroom Records (uk) e Rush Hour (nl).


Parole chiave: Sonar Kollektiv , Tiefschwarz , Amsterdam Dance Event , Club , Arthur Baker , Baby Dee , Andy Barlow , Planet Pendulum , DJ Benny Benassi , Zoot Woman , Gene Farris , Sneakthief , Bugz in the Attic , Postman , Fedde le Grand , Mweslee , Gregor Salto , Streamer , DJ Spooky , Kelpe , Nuno dos Santos , Oxia , DJ Joy de la Rosa , Gerry Arling's Bombay Connection Sitar Band feat. Kypski , Martin Solveig , Rex the Dog , Joost van Bellen , Paul van Dyk , Mighty Dub Katz , Norman Cook , Sven Väth , Kraak & Smaak , Vince Watson , Ashley Beedle , Illicit , Goodlife , Subliminal , Delsin , Southern Fried , Klakson , Defected , Finger lickin , Against the Grain , Hed Kandi , Stealth Records , Get Physical , Basserk , 90watts , Outland Records , Blacksheep Recordıngs , Cocoon , DC Recordings , Appletree Records , MN2S , Pokerflat Recordings , Toolroom Records , Rush Hour , Amsterdam
---
COMMENTI DEGLI UTENTI ALLA NOTIZIA
Questa notizia non ha ancora ricevuto commenti
Danceset TV
The Advent vs. Industrialyzer - My world



Store







dancefloor